Hi all ! (warning - THEORY coming up !)
This question has been asked numerous times, maybe disguised in different words.
How high can you jump ?
Of course we have to look away from "not normal" conditions as updrafts, thermals, extreme wind gusts or shear winds
Would like to show how the physics are regarding this, as there are SO many wrong conclusions around regarding jumps.
First of all, let us explain the simple basics.
A kitesurfer travels at a certain speed across the water, approximately perpendicular to the wind.
So, the apparent wind hitting the kite is the square root of the squared speed plus the squared wind speed.
Thats known of course.
This speed determines the kitesurfers kinetic energy (its "total" energy when moving across the water)
In theory, if you jump and you redirect ALL your speed into height, meaning you get to the apex of your jump with absolutely zero speed relative to the wind (not really possible maybe, but almost), you convert all your kinetic (speed) energy to potential (height) energy
These are the simple basics - and here the "mass" of the kitesurfer pays no role at all - meaning, whether you are light or heavy, you can jump the same height, all other being equal
Okay, when redirecting the kite, you have some "loss" of course.
If we neglect this loss, and say it is about the same (it is not, smaller kites are way more efficient, I know), and assume some typical kite sizes and max halfwind speeds in different winds, the numbers and results will be like this :

As in very light wind, we assume you dont reach the same max speed, but over 10m/s you should have reached your max half wind speed IMO.
So if we plot this as a graph (the thick line is the "smoothed" curve like it actuallly might be).
Where it is max height with a given typical kite size, relative to your max height with a 10m2 kite, so we can somewhat eliminate the "loss" we dont really know the size of :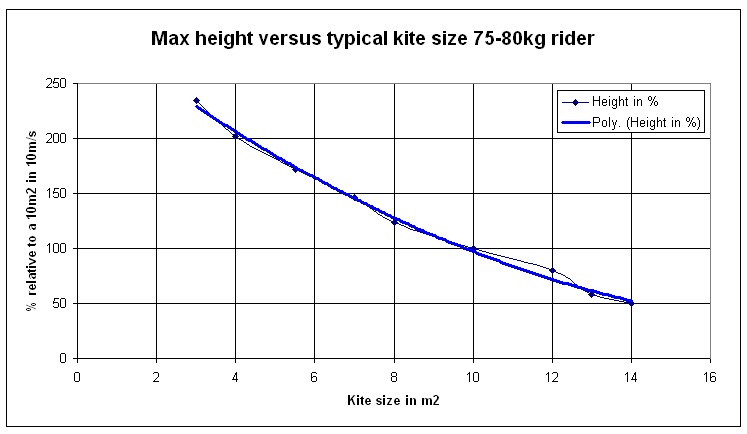 The same, just compared to wind speed in meters per second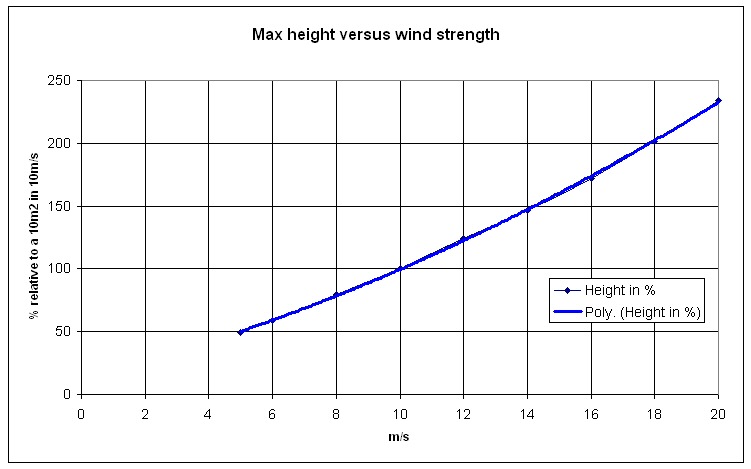 And in knots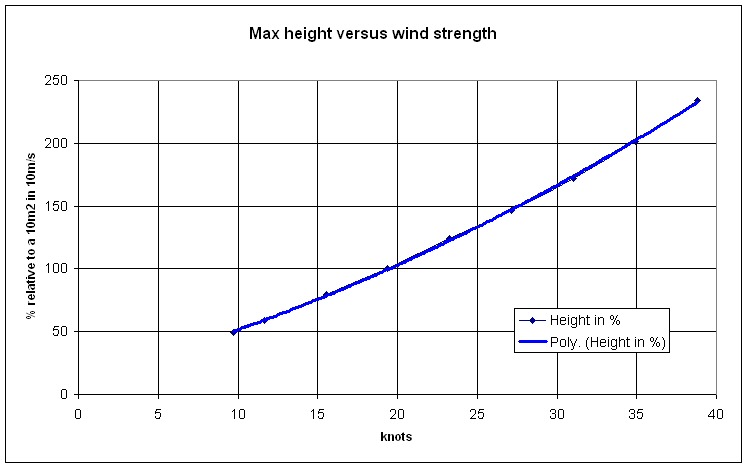 Hope this clears out some of the "mystery" and why it does not really help to pick bigger kites, regarding jump height (only regarding hangtime !)
Some think that the bigger kite you choose, the higher you jump - this is NOT true
If you have a kite that "fits", you will jump the max, because of the best compromise between power and perfect control and the least loss.
---------------------------
AND, regarding hangtime - suddenly we have the theoretical max height, versus the kite size.
As hangtime is for sure directly proportional to the jump height AND kite surface, we can make a really interesting graph based on above numbers, which shows the relative hangtime, compared to a 10m2 in 10m/s: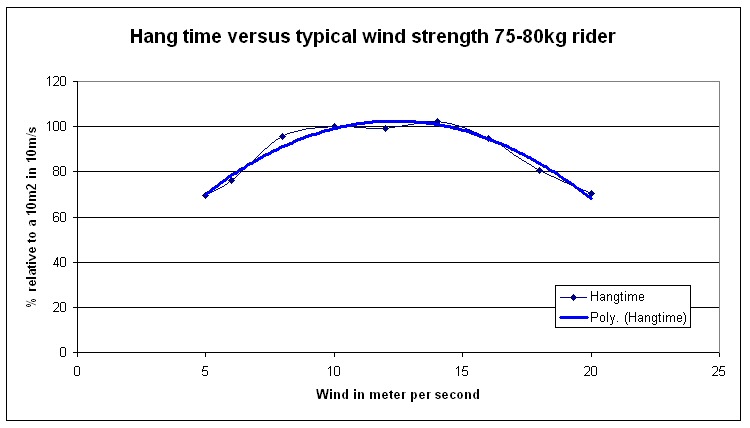 This is in fact no surprise to most of us, as we all know that big kites in low wind can not jump high, so even if they "float" longer, the hangtime is not good.
And really small kites in nukin winds, will jump REALLY high, but will drop fast like a rock too - so not max hangtime here either.
The answer is somewhere in between
My (theoretical only !) graph shows max hangtime most often will occur around 12-13m/s and the kite size that fits here (or one size bigger preferably) - but of course it can be shifted up and down according to rider weight, AND some of the losses has not been taking into account.
The bigger kite you can use, still able to jump the same height, the more hangtime.
But if too big, you dont jump as high, and maybe dont gain anything in hangtime either, and have a lower jump and less agility and less fun and control
Just had some spare minutes here, so could not resist calculating on this
Really interesting in fact
Kindly, Peter Frank