Hi everyone
A few weeks ago, a question to me made me do a sum-up of the kitesizes I had been using, for the last 1½ year (I cant remember WHY it was 1½ year now...)
But maybe it could be interesting to share which kitesizes you use in your area ?
I live in the center of Denmark as base (Aarhus), with low pressure systems, so wind from zero to almost nuts - but still not often nuts like some places on the other side of the earth (Plummet will know what I mean).
I had done these numbers anyways, so would share, as it shows that IF i wanted to, I could maybe omit my biggest and smallest kites (but I dont wanna do this, as these conditions are often the most priceless ha haaa)
One note: My 7 m2 hit a sharp shell/rock with the LE some time ago, and had to be repaired, so it was "gone" for a while - thus one of the reasons why it was used less than the 6 and 8, but doesnt matter, the idea of which kitesizes is used mostly is pretty clear
Also, I havent had the 3.5 and 8 in the full 1½ year, so might be a bit off, but the tendency is still pretty clear, HOW often which kitesizes are used here.
I KNOW that many make logbooks of their kiting (I've only done it since 2009 though), so should be a piece of cake to see which kitesizes you use how often, in other local spots
I am average weight 77-78 kg, and dont kite as much when winter and snow like now, but still out.
The green is the tendency line: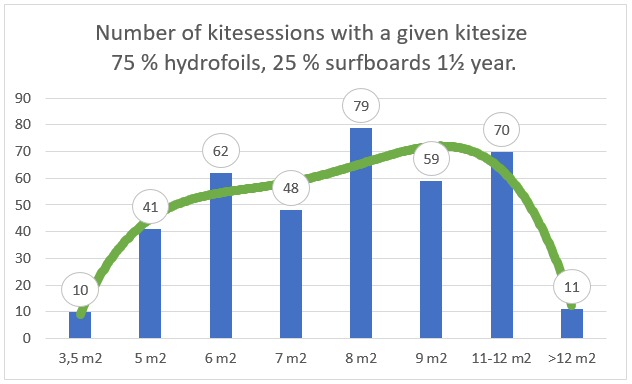 On surfboards, the typical most used is around 6 m2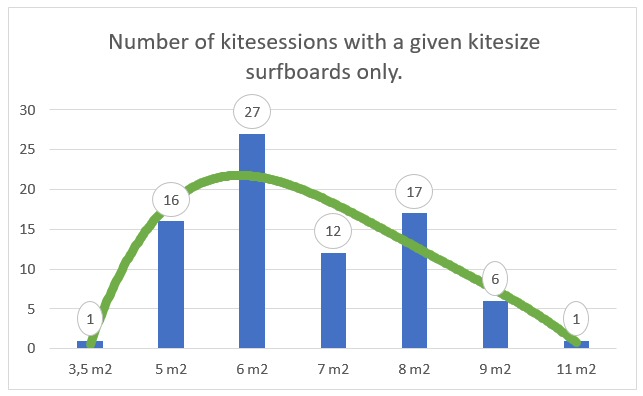 And on hydrofoils it is quite high, around 10 m2 (eventhough I dont have a 10 m2), but still a lot more sessions, almost the double amount, on a 5 m2 kite than on a surfboard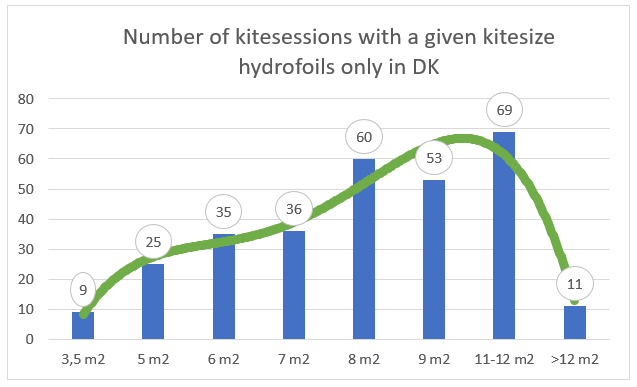 Sorry, above will bore the hell out of many, but then you can just skip this thread...
Some might like to share - I would like to see which sizes are used by others, longterm that is.
PS: I define a session by the kitesizes you ride on a given spot - not how many times you are out, as this number would often be much higher and misleading of course.
Peter
PS: For Toby it would be easy, as it is one size only, right ?
PSS: I got a TT, but havent ridden it even once, for 1½ year, true