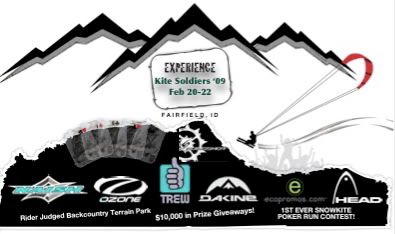 Hi guys. That time of the year again. This is Monty, I'v been working hard at getting this website launched and making this years event unforgettable. If you have not snowkited in Idaho yet, this is a great opportunity to see what the hype is about. I know some big crews are coming from Hood, Bend and Seattle. Lodging is going fast, new to this years event is a "Backcountry Poker Run" "Huck a Bus" "Eco Terrain Park comp" "Downwind Shuttle Bus" "$10,000 in Product Giveaway" and a blow out bash on Saturday night sponsored by Naish. Early Registration Discount!
You can visit the Event's Website here:
http://web.mac.com/downwind/iWeb/Site
16/Kite Soldier '09.html
Press Release:
Kite Soldiers is the world's only backcountry snowkite event. Snowkiting, the newest trend in extreme sports is taking center stage in Fairfield, ID. One of the nations best Snowkite destinations is located 1 hour from renowned Sun Valley Ski Resort. Showcasing the best talent in the world, competitors will navigate a 15-mile course, climbing over 1500 vertical feet by propelling themselves with nothing but a kite and a the riders choice of snowboard or skis . Kiters will be tested and their talents pushed to the limits in order to navigate the worlds first poker run. Professional and advance kiters will navigate through 5 checkpoints leading them to the top of windy mountain peak. Beginners and intermediate kiters will navigate their way through 3 checkpoints to the base of the mountain before returning to the finish line. All riders will receive a poker card at each checkpoint. The best poker hand wins. Prizes include, skis, snowboards, bindings, kites, backpacks, roller bags, gloves and other great products courteously of our sponsors. In addition to our poker run, we will be unveiling Idaho's first terrain park. This green sport is hitting mainstream and this event seeks to show the world how limitless snow kiting is.
I'v been getting a lot of inquiries about the event and thought I'd use this post to address some of these questions and to add some new thoughts.
What is this event.....
So
The Poker Run is ride at your own pace, have fun and explore event. 5 card, 3 card straight stud. Best hands win cool stuff. Get your poker card at each checkpoint from our volunteers....follow the flags on the guided course.
The course is designed to take beginners/intermediate (3 card run) riders through rolling hills, deep powder stashes and amazing terrain while advanced/pro (5 card run) riders will continue up to the high country. Your welcome to race each other but you'll miss out on the 20 foot natural quarter pipes, steep powder descents and mind blowing terrain. This is your chance to explore deep into the backcountry and win some unreal prizes with the support of snowmobiles. Take your time, see what makes Idaho Snowkiting the best. The time limit for the course is 4 hours, give or take. The only reason we have time limits for the course is so our volunteers don't freeze to death:)
We are having a terrain park comp, rider judged as well, kinked 20 foot stair rails, quarter pipe and 2 straight rails, one upward rail.... give or take a rail.
Poker Run: $45 entree gets you free swag bag( event-t-shirt, hat, beer holder, wristband) All poker run contestants get a "park pass" as well and can ride our rails for all three days and have the option to compete in the Terrain Park without paying additional dues.
Backcountry Terrain Park: Those who just want to Jib, will pay $30 and get a 3 day "park pass"and have the option to compete in our rider judged jib event. Free beer at the Naish party on Saturday night for all competitors.
We will also have a Naish, Ozone and Slingshot Demo centers for kiters wishing to demo kites from the industries best. Join us Saturday night at the Iron Mountain Inn for the Naish Party and awards ceremony, band, DJ, food, booze and fun.
If your thinking about going, please register early and save $10.
You can register here:
http://www.snowkitesoldier.com/events.aspx
Conditions are epic. Here are some pictures of the Poker Run Course taken a few days ago: