Hi, during the years this question has been put many times, very understandable as it DOES NOT turn like you are used to.
Had some time yesterday after a surf session, and today waiting for wind or company, and will explain here:
When riding a twintip or a surfboard or a skateboard or a snowboard, we normally use the edges or at least toe and heel pressure to turn, works like a dream and all of us got that into our muscle memory from childhood thus easy and natural
Learning to hydrofoil for the very first time, we are simply blown away in amazement when we get up and "fly" over the water - YEAH !!!
We use many tricks to try to think our way into balancing pitch at first, amongst other parameters, but we find they are to no real help and only time helps.
This is purely because it is so "over"sentive to front and rear foot pressure, that our brains can not do it, but muscle memory learns over time - and suddenly the "impossible" becomes possible, and later it gets even easy and relaxed
The next step you work with is holding a specific course, meaning holding it upwind or bearing off going deeper.
This will for starters lead to, for some, horrifying speed runs where you go halfwind or broad reach accelerating and having difficulties getting the kite up for less power so you end up in a crash on a non-intended speed run that feels deadly to you
Two tricks here are - ride very low powered and you can ride any course easier, but when learning you dont wanna ride so low powered (most things get more difficult), and when experienced you also often like more or a lot of power to do fun and amazing things, so the other trick is to bear away so much that you go really deep thus riding with the wind and the power drops and you are in control again.
But now a new challenge comes - when you learn to foil and ride upwind, you ride heeled over and can balance and lean against the kite and lines for support, sometimes even pulling/pushing the bar to balance - but when you go deep downwind you suddenly stand on top of the foil and have to "keep your balance yourself" so to speak - very difficult at first but you will learn eventually
Bearing up or downwind slowly into different courses is easy (not easy to ride fast downwind though) and you just do this without thinking.
Okay, now most are at a stage where they want to CARVE (turn the hydrofoil without moving their feet) as they are quite confident riding.
This is where the difficult part starts, as you are used to using the edges on every board you have ever ridden in your life - THIS DOES NOT WORK !
You have to YAW to give the input to carve/turn
This term is new to many, and also origins mostly from aviation and not a commonly known expression amongst most.
It means you twist your body so to speak, making a move like you want to turn the mast like a corkscrew if you know what I mean ?
The only thing that resembles slightly is when riding a unicycle and turning sharp at low speed, then you do a similar twist.
To turn a tight arc on a hydrofoil, you look into the turn and new direction like on all other boards, and your body will follow - most of it, because our learned reflexes pushing the edge with toes or heels takes over quite often, and you end up falling off your board, while the board continues almost in a straight line
I have made some illustrations to show what exactly "yaw" is:
You push into the turn with your front foot, and push "out" with your rear foot, to initiate a turn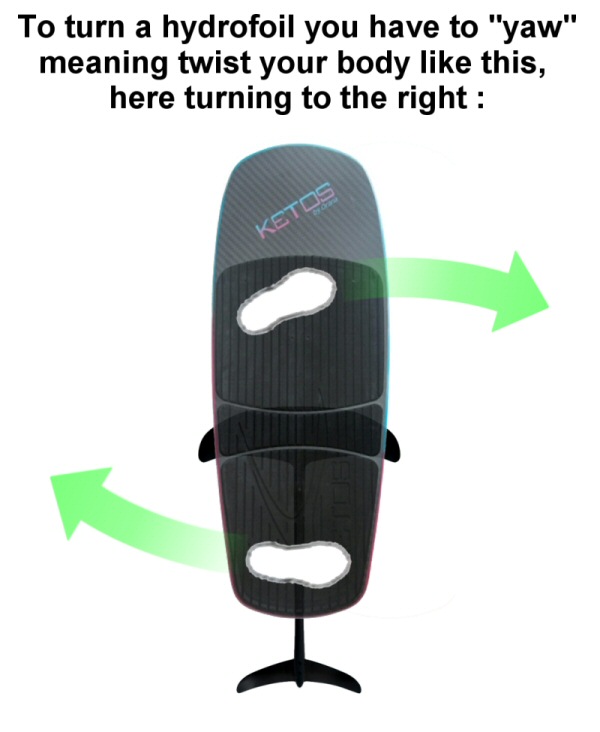 Shown in a pic instead, turning right, notice the body is straight over the mast not heeled out nor inside.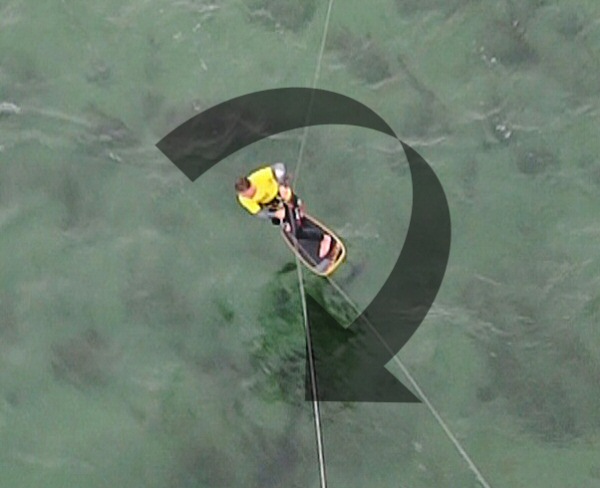 The same, just turning left and with speed, leaning far over into the turn.
Looking "in" the turn, using your hand to point helps a lot, besides being a lot of fun and relaxing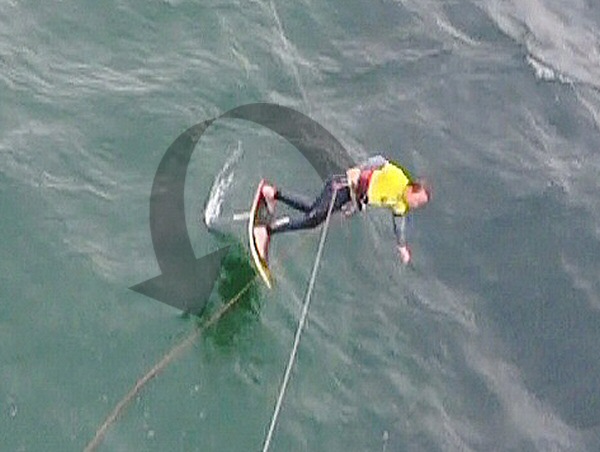 But this looks just like on a surfboard, same thing eh ?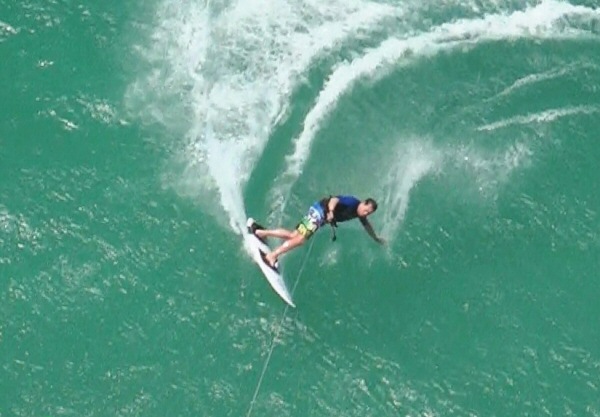 No, it is not - it LOOKS the same, but it is not, and this is probably one of the reasons why so many can not get it to work...
Including me when learning back in the days, as got noone to ask it was try and try and try, crash and crash and crash till I found what worked.
To initiate the turn you have to make this yaw movement - you can in fact turn extremely tight this way, a must in light wind to keep foiling.
When you get the timing right, you dont notice yourself nomore what you do, you just DO IT
You have to lean over simultaneously with the turn, but leaning over in itself does not work at all, on the contrary you will crash.
Keep your head and eyes in the new direction as said.
Above pics are going from heel to toeside - going the other way from toe to heel is exactly the same, look over your shoulder and "twist" to initiate and go with the flow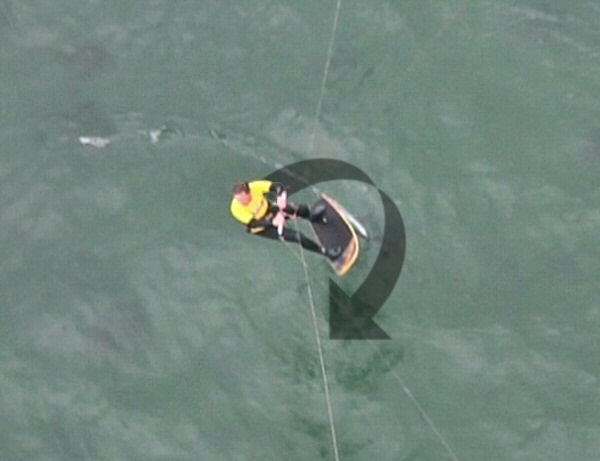 The best thing of it all is, that WHEN you get this yaw input into muscle memory, turning and leaning deep into the turn feels natural and just as on a waveboard now.
Above and below pic are from today (we got SNOW today, brrrr), showing how you can also use your hand inside the turn when going back from toe to heelside and get even more lean-over like a fast bottom turn on a wave or a wide cutback, just a tad more difficult as you have to change hands on the bar during the turn, if flying the kite up and over, but if you downloop it is easy as you have your inner hand free now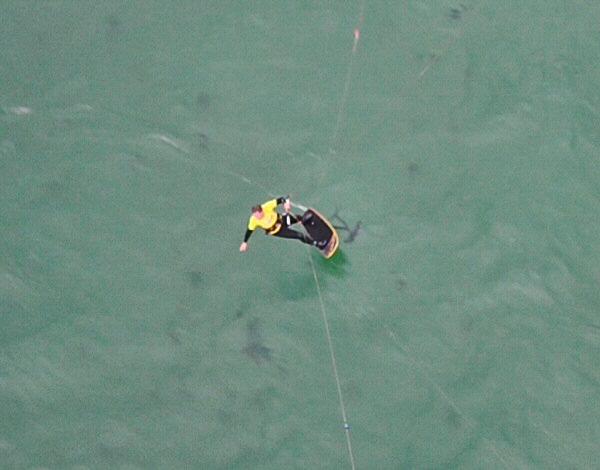 Above illustrations explains what "yaw" is, as this is a major difference and my advice when learning turning is to avoid ALL other boards except your hydrofoil, for a period, so it gets into muscle memory
A good way to practice, is to "think" yaw when riding up or halfwind, thus doing zig-zags like a vague slalom course where you use this input, so you know the effect before going into a full carve c",)
Hopefully some can use above.
When we woke this morning in Denmark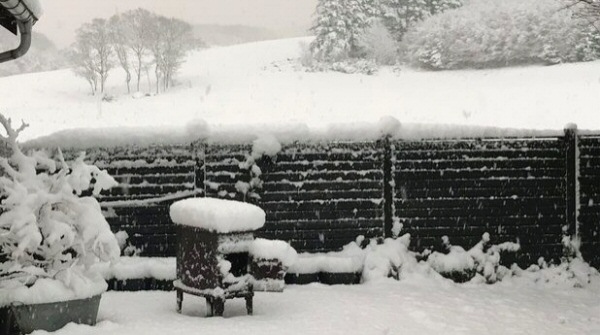 Ciao from Peter