Today I had the chance to get out with the 6m2 for the second time.
Way too much wind the other days, and dark after work many days, but great waveboard sessions with 5 m2 kites, and wingfoiling in waves too.
Looked like this wednesday, there could be sufficiently low wind for it after work, and like the last time no meetings in the late afternoon, but it gets dark just after 1600 hours and no sun, so dark after 1½ hour.
My lowend 78 kg with a low AR 1200 cm2 Ketos foilwing, and 20-21 m lines, was around 9-11 knots where it still worked.
Under 10 it was difficult to get up on foil indeed, here longer lines could help out I am almost sure now (contrary to what I thought earlier).
But this is not the range it will be used in, and once on foil you can ride in just sub 10 knots
Carving was still fine, kite turns fast, and one could do full carves up on even the smallest waveface, or just when flat, and back again.
It does not have fully the same acceleration, not fully the same powerspike, not fully the same "lightness" - as the 5 m2.
But it is pretty darn close
Close to the 5 which is the "golden" size.
But nothing like the 8 which is for down to 8 knots, but 8 is miles away from the 6 and 5 in terms of fun and agility/lightness in your hands and freedom.
For my weight at least, it seems the 6 is the perfect "max" small size for Peak4 kites, one can feel if it gets a bit bigger, you will lose all the fun - so I find this size has just been kept right under the "not as good" size, so a 7 or a 7½ m2 would probably not have been anywhere close to the fun 6 m2.
Í find it like this, lets hear what others say
The lowend is tapped just a small step lower than the 5 m2 - great.
And still keeping the easy one handed fly it around everywhere whenever you want, because it is not too big.
I noticed one thing quite evident - it could be I just had a "good day" by luck, but I found jibes and tacks (and failed ones as I am no good at tacking so fail also) even in this tad lower wind, was easier as it had more lift than the 5 m2.
It does everything I could want, size pushed up to the max it can be, before it will lose its "playfullness" as a lively small carving drifting kite
Still not a sub 10 knots waveriding full carving kite - as I am pretty sure NO kite can do this.
But it is darn close, sometimes possible.
It is not only a matter of how good the kite is at turning and drifting, it is also a matter of physics, when the wind gets below a certain point, you can not ride DTL anymore, nor can the bigger kite needed turn well
For me, the 6 is the best size for fun carving and DTL riding in the lowest possible wind.
Bigger is fun just for getting out indeed, so will use my 8 m2 with longer lines often, thats for sure - but then we dont talk "small Peak kites" fun like we know of.
So like before when you would do everything to get out with the 5 if possible even in its low end, instead of a bigger one, it will now be the 6 you aim for here !
A dark day just before sunset, ready to go: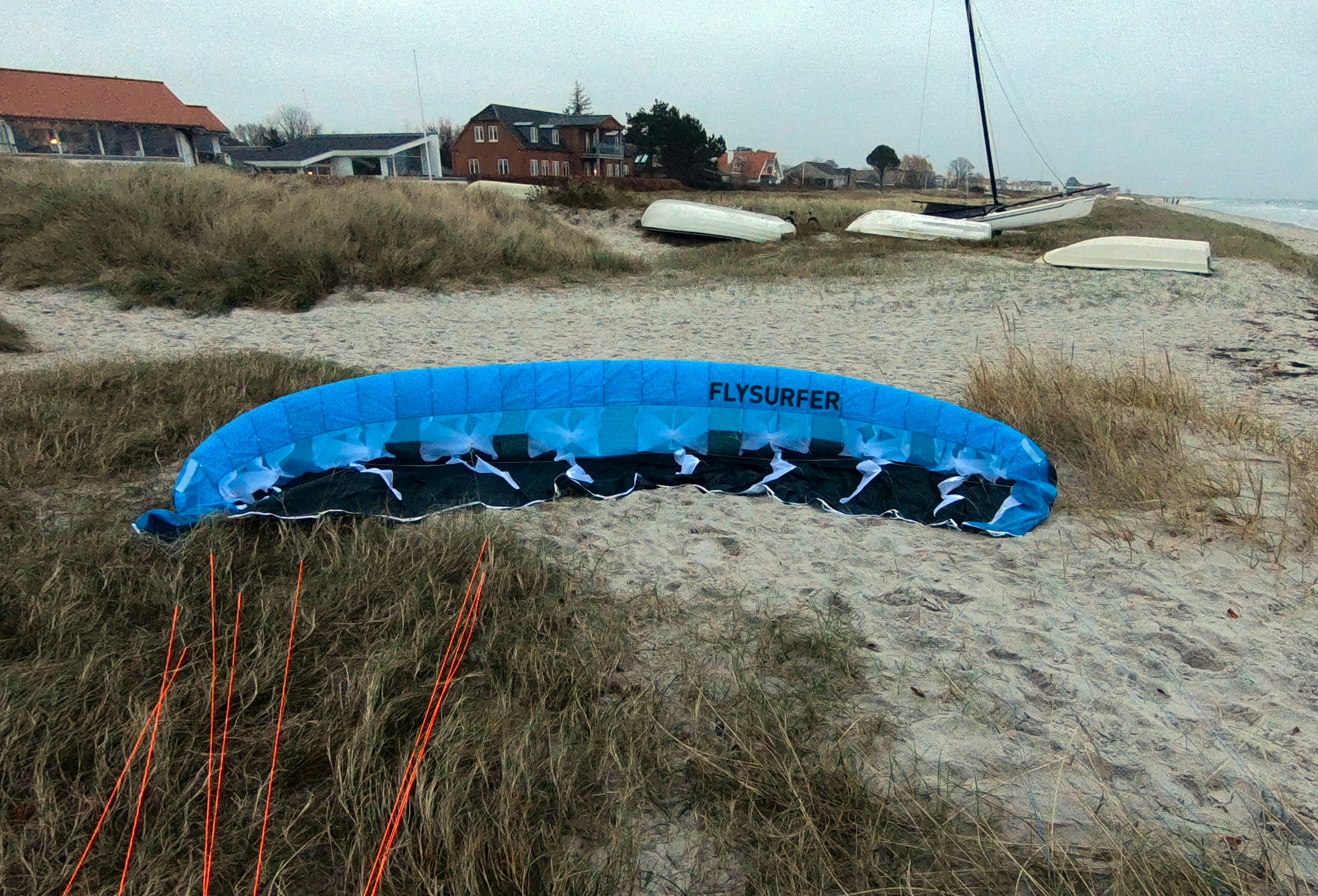 .
.
And having fun out there: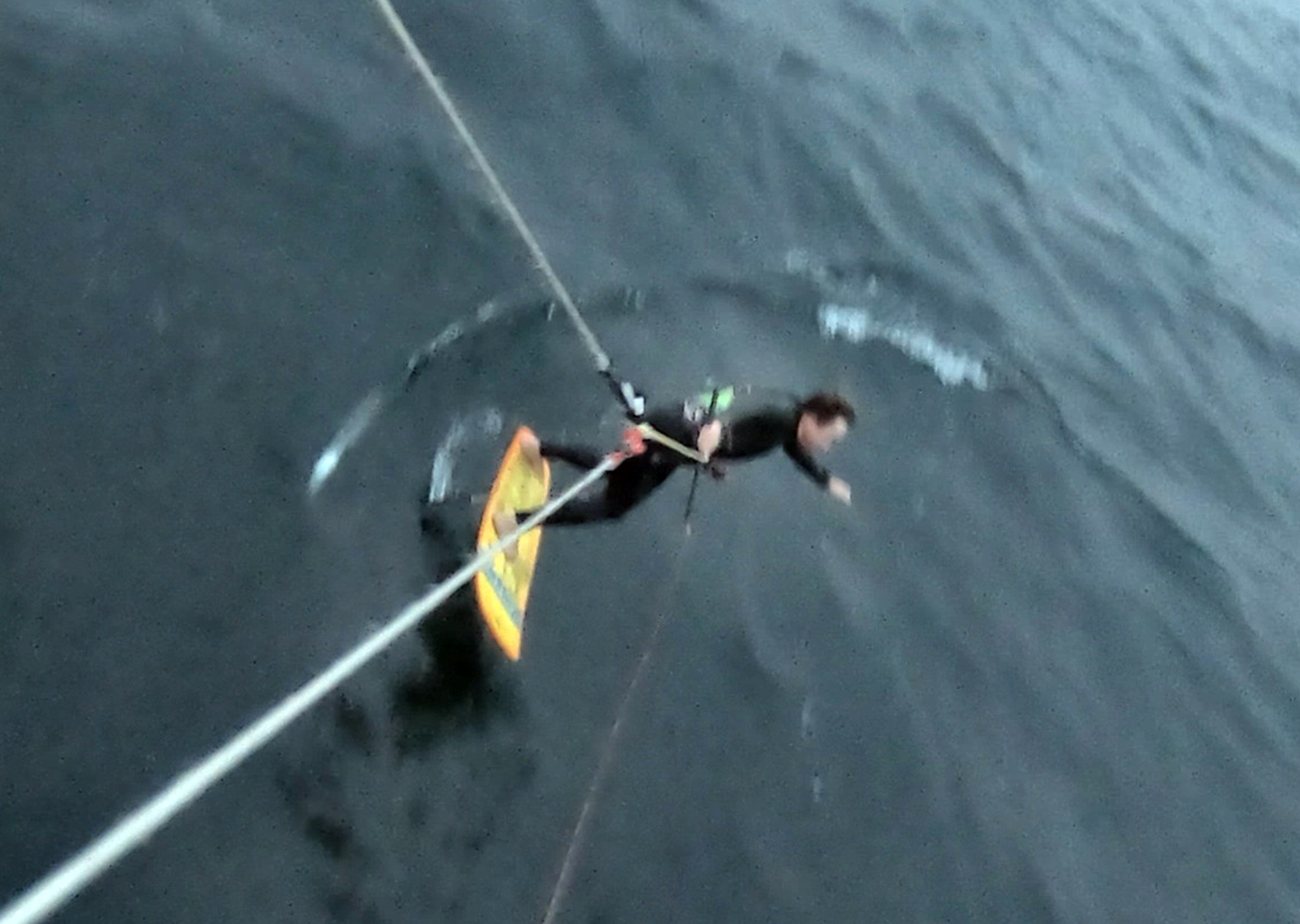 It was pretty warm today, 7 degree C air and water 8 degrees - nice warm this time of the year, but the sun would have done it even better, crossing my fingers for a sunny day one of the next weekends c",)
Only thing I wish, was it had another color.
I like it, but having three kites same color next to each other sizewise so you can not see which it is from a distance, nor feel you change to a "new" kite when you rig up or down on a given day, is a bummer...
Peter