I bought a 3 and a 5 m2 Peak4, now I wanted to find out why almost noone use this kite, and why those who do, NEVER looks back
For hydrofoiling that is.
Long post, but you can also read one line and drop the rest:
I am hooked, stoked, it has a big windrange and drifts amazing, turns well and feels good, crazy about its abilities both for freestyle fun and especially when small or bigger waves. Period.
Had been out two days in a row now, two days ago at my homespot, it was 8-11 knots of wind, and I was on my way with a 10 m2 onestrut tubekite.
Hesitated and took the 5 m2 Peak4, just to get an idea.
My normal thin foilboard with a light wind wing (1100 cm2 Ketos Kruiser wing, starts early as higher AR than bigger surf wings)
Too little wind to get my ass out of the water in 8 knots, but that was to be expected with a 5 m2 and 78 kg of course.
Using the std Flysurfer Connect Bar, really good quality and I like that bar, with its 21 m lines.
What was nice, was I could fly the kite down low, so I could board/bodydrag out (it was onshore wind), even when too little wind to ride - this is NOT possible even with a superlight maybe strutless kite.
We all know, that when we get a bit further out, there could be more wind, or waiting for a puff to go.
Have never thought about this nice feature, that dragging out to deep water in too low wind is possible, with less risk than normal foil kites or light LEI kites.
Made an extra set of knots on the rear leader lines, so they got shortened, as I like to ride with the bar a bit away from me when on a hydrofoil (especially in waves), and like being able to pull/stall the kite a bit back in the window.
Personal preferences, some like to be able to pull the bar all the way without stalling.
Okay, the wind picked up to 9 to 10 knots, and the Peak kite had very good peak power, so now I could start, and once up, I was foiling no problems.
Had to use the first 10 minutes to find the new balance sheeting point, especially when turning with a new kite and new linelength.
It came pretty quick, and the winds where around 10-11 knots the next hours, which was perfect for this 5 m2 and wing now, and had a blast, jibing and 360s.
Also tried going faster, then going DEAD downwind towards the kite, sheeting it out to make it worse - and it simply drifted back and I could just pick it up again whenever I wanted to
The wind dropped slowly to 8 knots again, and I stopped, on the beach I tried the same, powering up, sheeting out and running as fast as I could under the kite with slack lines, it just drifted back like no other wave tube kite or double skin foil kite would ever be able to - AMAZED.
This was in its absolute minimum wind, for my 78 kg two days ago.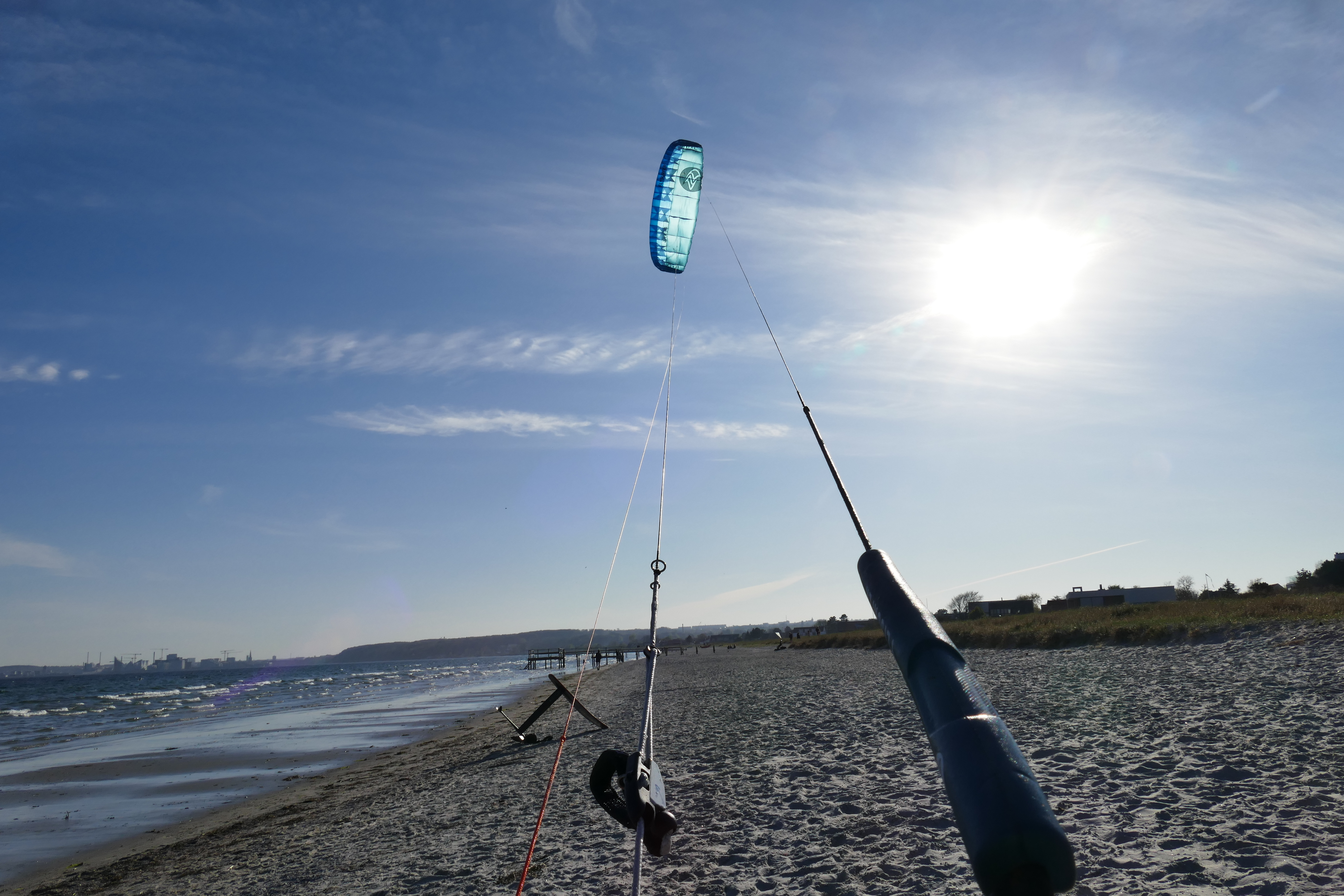 .
.
.
The wind got up around 12 knots max, and fell to 8 knots which is just too little to haul my big ass out of the water - but amazingly, when a kitefriend and me stood on the beach talking (he HAD to go and feel the kite), I could fly the kite ALL the way down to the ground, where it just hangs in this little wind, and he could touch and see the kite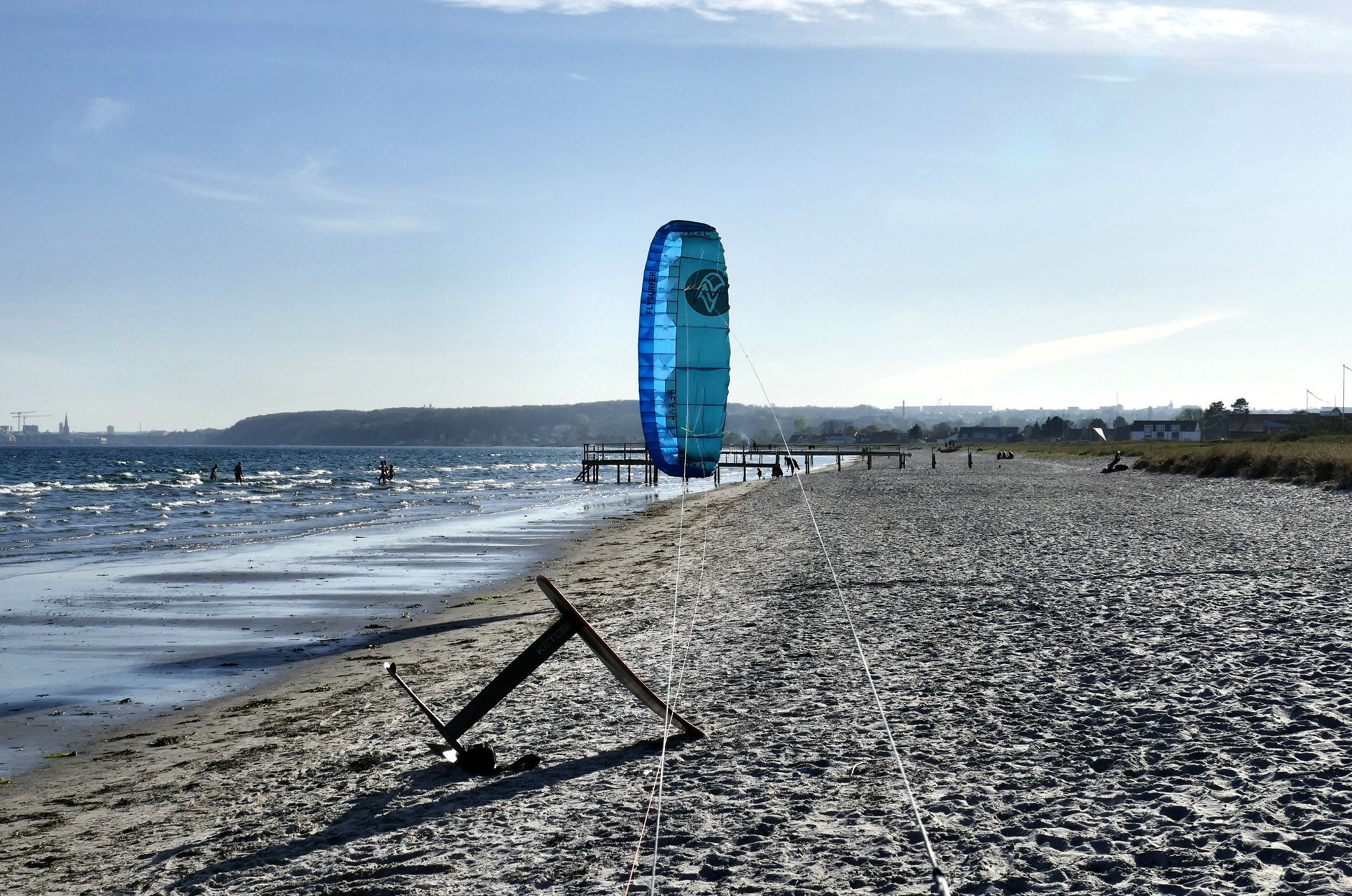 .
.
.
My gear used in this light wind, bar is ALSO inside the bag, amazing travel size, or "walk to a spot" without a pump, and ride, gear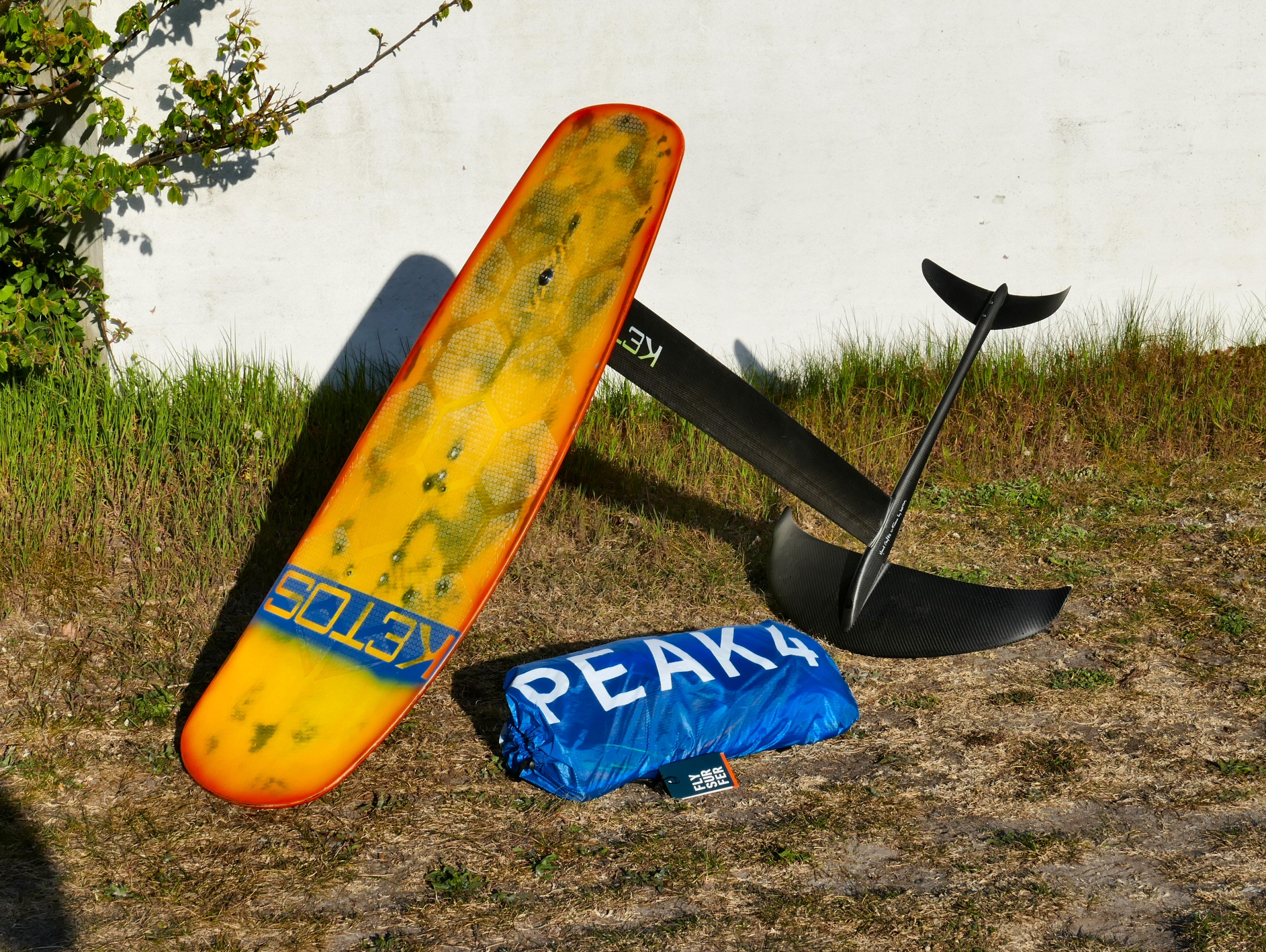 .
.
.
It hardly flaps at all, which was a thing I was curious about, only if looped tight it did, but when sheeted normally in, no flapping.
When looped for power for a start, no flapping - and it has amazing peak power, more than tubes definitely.
Not as extreme as a racekite, eventhough they are not really used down in these sizes, and it wont go upwind as crazy as a doubleskin racekite, but doesnt matter, it goes upwind juuuust fine for freeride and waves and freestyle
The profile is not as perfect as racekites when depowered, and when you put the brakes on pulling the bar oversheeting, the TE is curled and not as clean as a racekite.
But this doesnt matter one bit when not racing !
That was my first day here locally, amazed to be able to ride in 10 knots of wind, and it did not take long till I had the kite dialed very well.
Also went to low water, put the kite in the drink.
Well, if the front gets rolled over and water inside, you are toast, in this light wind at least.
BUT, I walked to the kite, not disconnecting from the bar, and put it on its back, draining the LE chambers (took a few seconds as open).
Walked back, and just like seen on a video, could easily start the kite now.
This way I did not get sand on the kite, no need to go ashore to relaunch.
And for those who want to drift launch, it works just great
Eventhough I had seen the video myself, I did not believe it, sounded suspiciously risky - but it is really easy and works !!!
-------------------------------------
That was the first real test two days ago.
Yesterday we went to another spot, where the wind picked up from 3 knots, ending in 18 knots.
Went out when it was around 10-12 on my 1200 wavewing and smallest board, wind picked up pretty fast and more to come as can easily be seen in the background.
Got a friend to take a picture of the kite and me (rare you got the chance, but he was a windsurfer waiting for more wind ha haa)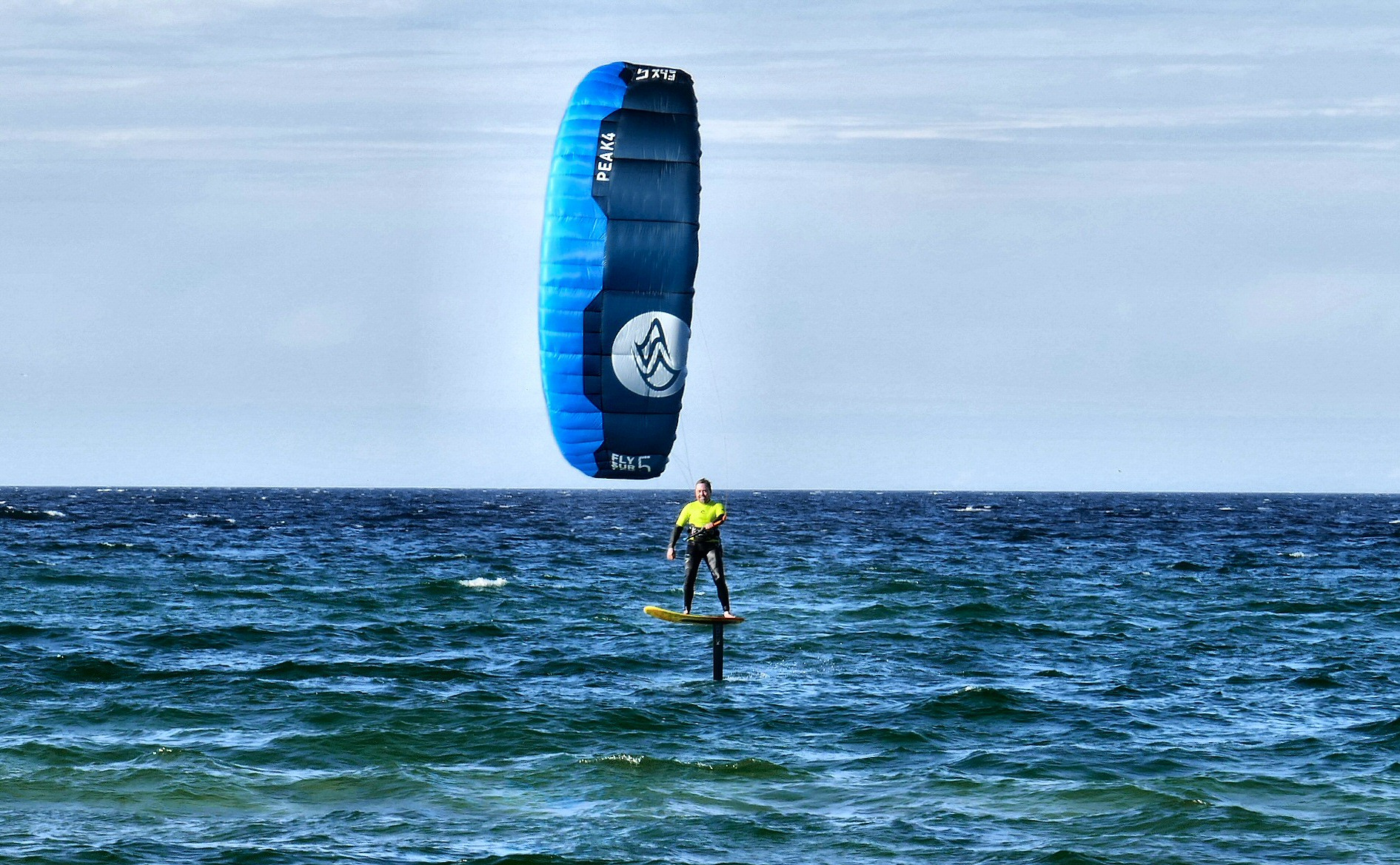 .
.
Nice, right?
Wind picked up, and waves rolled in getting bigger and bigger (totally flat before), so it was great to ride it now - it was simply AMAZING to ride waves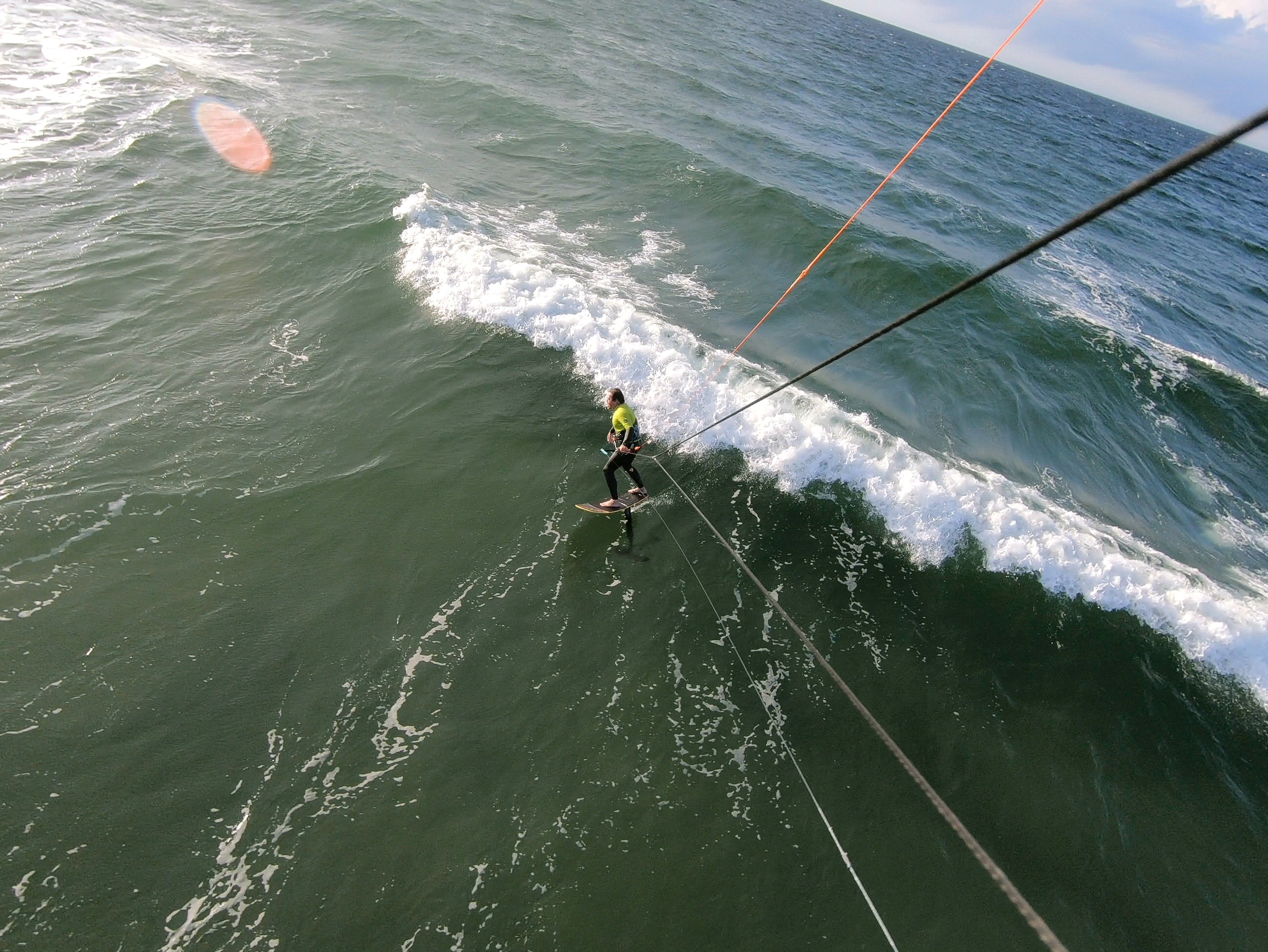 Why?
Two things, even when wind picked up, I could foil downwind on the waveface, kite depowered, and I did not accelerate like crazy like on normal small tubes - great.
Even more fantastic, I could also ride higher on the wave (if I wanted), and ride DTL getting slack lines, kite just drifted back, of course not steerable but gliding on the power from the wave, and when tighter lines again I could just grab it and continue riding the wave - WOW !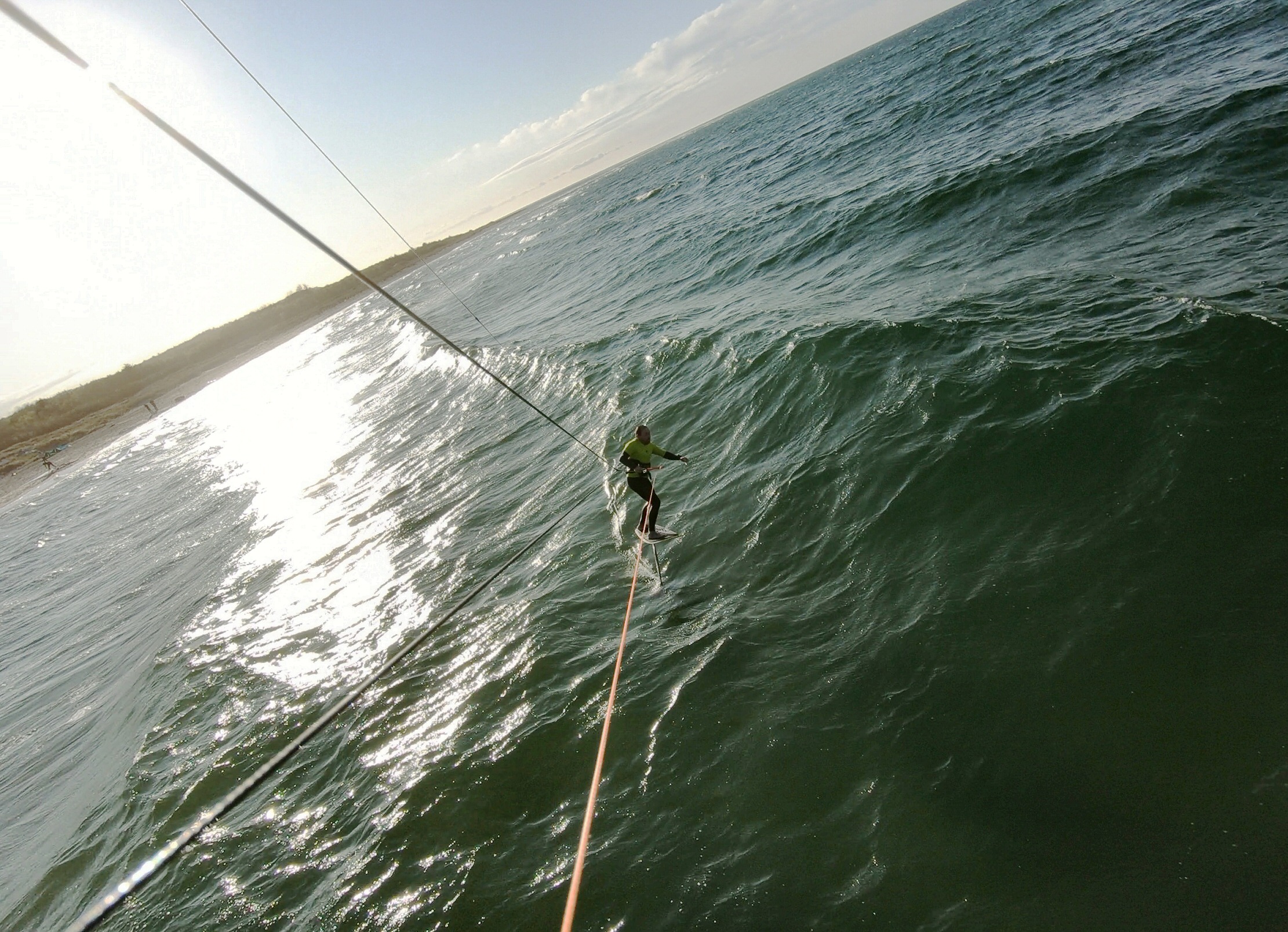 This is truly a gamechanger in terms of kitefoil waveriding, I know for sure I would have had to make more selective turns if having used a tube, in order to avoid the kite from dropping/tucking when riding towards it DTL.
Yes, when out in its upper end and you depower, if flaps, but this is no issue compared to the advantages.
Actually needed and the reason it can depower so extremely, thus a giant windrange 10 to 20 knots maybe, and still "almost" its sweetspot.
I will get myself a 4 m2 also now, asap, no doubt !
.
.
.
.
I had my 3 m2 out in too little wind just to see how it worked, and get the lines tuned etc, so a pic of my 3 m2 Peak4: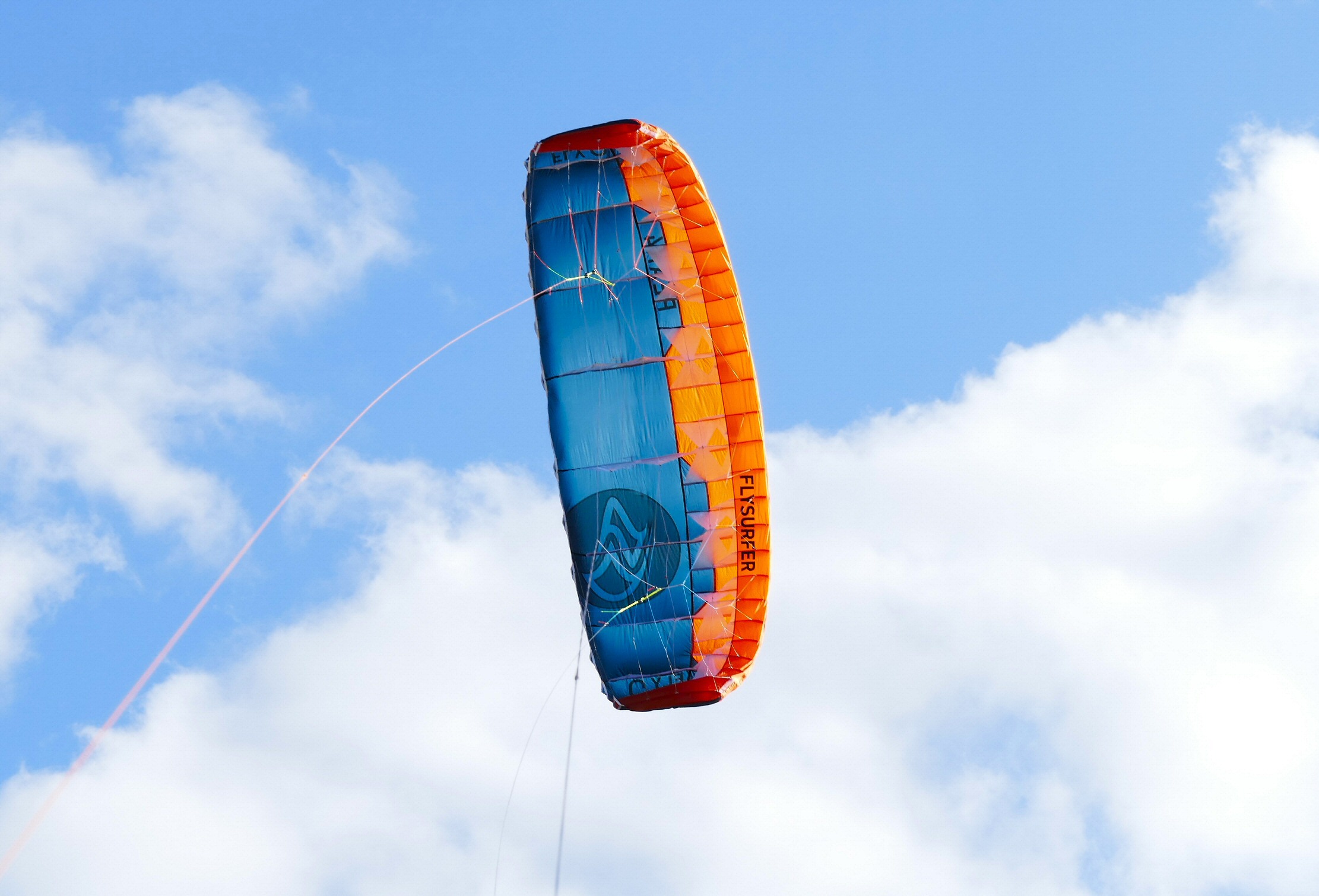 .
.
.
And my 5 m2 yesterday: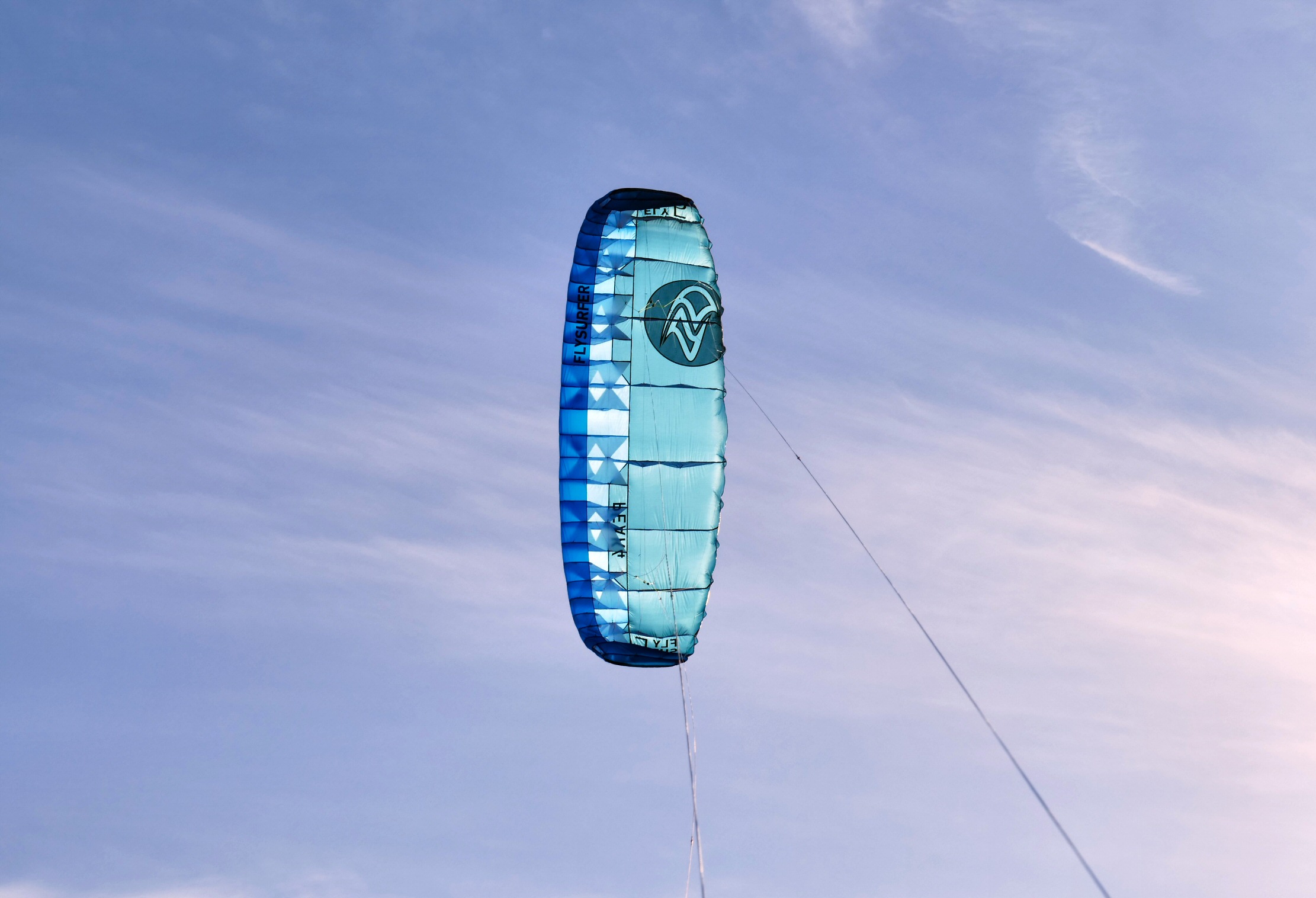 .
.
.
I very rarely gets "stoked", as everything has quite some downsides too, but in this case I am truly stoked, a few less perfect things like flapping when in the upper end depowered, and usually no water relaunch till you are in low water, but hey, doesnt matter compared to the advantages.
Other downsides? Time will tell, but havent found any till now
It is NOT a typical foil kite.
It is NOT a typical wave tube kite.
Somehow it is the best of both worlds I think, put together in one handy kite, and now I understand why it is impossible to explain for those riding Peaks, quite few still, as it is just "different".
One said "too easy" to ride - but this is the very point for freestyle and waveriding, the kite should just "be there" and not be an obstruction with all your attention nailed on the kite, you should care about the waves or freestyle instead
I disagree a bit, as when skilled you can learn to handle any kite perfectly, so no obstruction when in muscle memory, the kite control - but with the Peak4 it opens up for more drastically downwind riding.
There might be a limit where it doesnt work nomore of course, nothing is perfect - but this limit is far above other tube kites I have flown.
I have not used the 5th line "B-safe" as they call it, but seems very thin and easy, so will put it on next time, as it will make it safer for one, but more importantly, you can selfland even on a wide desserted beach if wind picks up a lot, easy (I think, have not tried it)
The ease of packing out, and packing away without having to let air out, is mesmerizing c",)
Should be easy to fold away to "nothing" IF it goes in the drink a bit out.
I am stoked, well even flabbergasted I would say, about what this "little sweet thing" can do !!!
Still, only two sessions maybe 5 or 6 hours in total, but happy.
Peter